Ruby in Fuchsite faceted drops in antique brushed silver tone chain, wire wrapped Boho style. These Ruby in fuchsite beads are a nice size and have all the varying features of specks of Ruby in the light green Fuchsite. This stone is very hard to cut because of the difference in hardness of the constituents. Fuchsite is very soft and ruby is hard so nice job stone cutter! (See also matching earrings.)
https://www.basketofblue.com/product/ruby-in-fuchsite-blue-boho-earrings/
Wire wrapped with brushed silver copper alloy wire. Stainless steel lobster clasp. Length is adjustable to 20″ max. (Really you can make it as short as you like since the clasp can attach to any link.) Take a bit of care handling this stone because of the softness (dropping on hard surfaces is not recommended)."
About Ruby-in-Fuchsite
Ruby-Fuchsite Gemstone
Ruby in fuchsite, or ruby fuchsite (pronounced FOOK-site), is the natural combination of both fuchsite and ruby in a single specimen. Ruby-in-fuchsite can vary tremendously in color, pattern and hardness depending on its exact composition and how it was cut. Fuchsite gives the colorful stone its blue-green to emerald-green color, while ruby inclusions provide attractive pink and red highlights. Interestingly, both red ruby and green fuchsite are colored by traces of chromium. Ruby-in-fuchsite is sometimes confused with ruby-in-zoisite, since both gemstones are green and interspersed with pink to purplish-red ruby.
Ruby is the red variety of corundum that is considered one of the most valuable gemstones available today. Corundum, which includes both sapphireand ruby, has a hardness of 9 on the Mohs scale, making it the second hardest natural substance on earth. Fine precious ruby is most desirable in its transparent form, but the ruby included in fuchsite is typically opaque.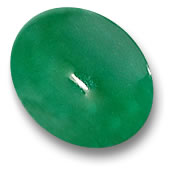 Green Verdite Fuchsite
Fuchsite is the green-blue to emerald-green chromium-rich variety of muscovite. It is sometimes known as 'chrome mica' since muscovite is a type of mica. Muscovite is a common rock-forming mica found in many varieties of igneous and metamorphic rock. The most famous or well-known muscovite in the gem trade is verdite, a popular trade name for an impure variety of green fuchsite, which is mostly found in South Africa. However, some ruby-in-fuchsite specimens are known to come from Ethiopia.
RUBY AND FUCHSITE MEANINGS
Ruby is an energizing stone stimulating vitality, passion and enthusiasm. It encourages a positive and courageous state of mind, improves motivation and encourages you to follow what makes you happy.
Fuchsite amplifies the energy of other crystals and teaches true self-worth, overcoming co-dependency and emotional blackmail. It can help you to understand your interactions with other people and can improve your resilience to emotional tension.
In healing Ruby in Fuchsite is said to ease carpal tunnel syndrome, repetitive strain injury and to help realign the spine.